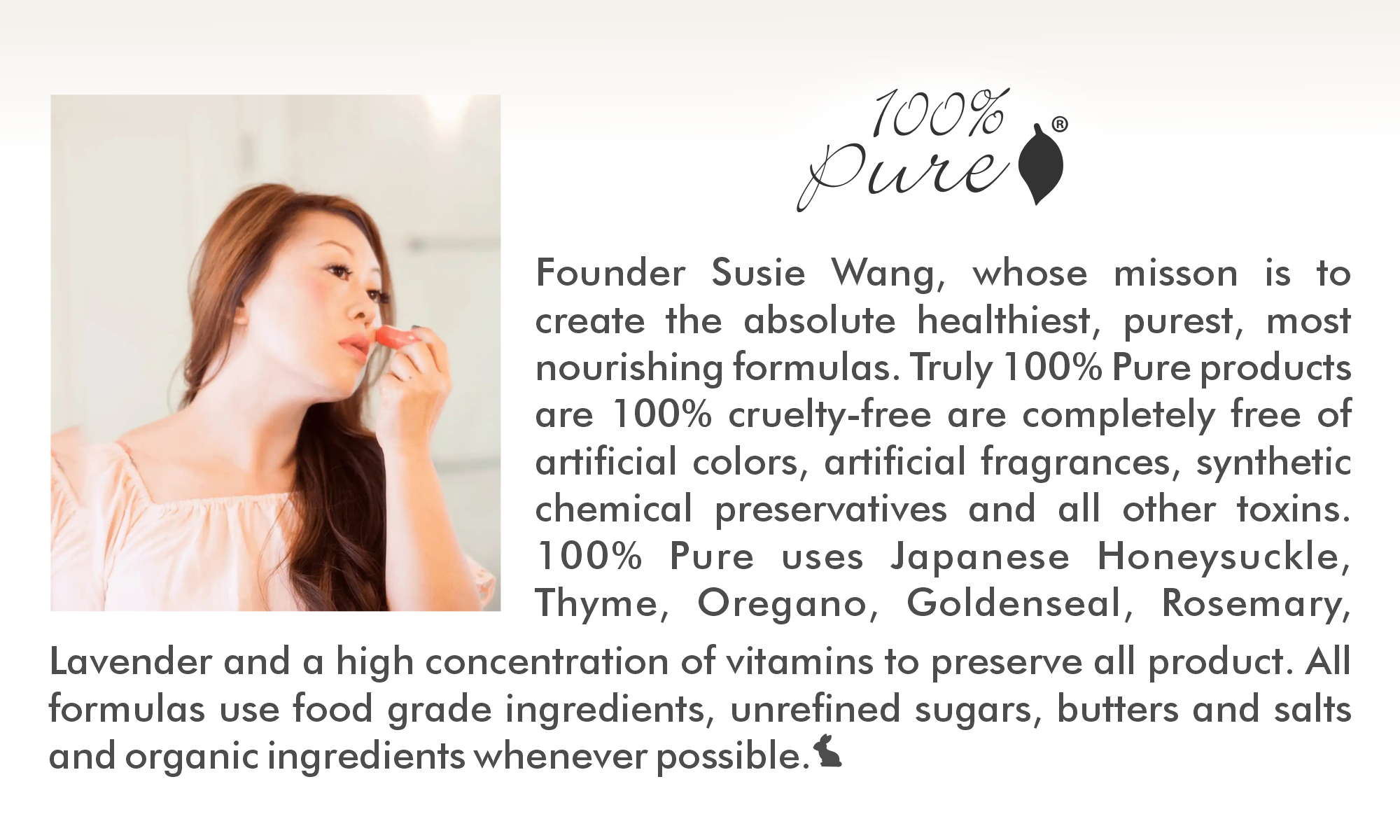 100% Pure Healthy Foundation
Complexion-perfecting natural foundation enriched with antioxidant-packed superfruits, vitamins, and other skin-nourishing nutrients. Creamy liquid formula sets with a pristine matte finish for soft, velvety smooth skin. Gorgeous fruit pigments and rice powder deliver 100% opacity, ideal for absolute full coverage of dark circles or hyper pigmentation, controlled shine, and balanced excess oil.

Full Ingredients :
Aloe Barbadensis (Organic Aloe Juice) Leaf Extract*, Oryza Sativa (Rice) Starch,Titanium Dioxide, Zinc Oxide, Extracts of Prunus Persica Fruit (Peach), Prunus Armeniaca Fruit (Apricot), Theobroma Cacao (Cocoa Bean) and Lycium BarbarumFruit (Goji Berry), Euterpe Oleracea Pulp (Acai) Oil, Punica Granatum Fruit Extract (Pomegranate Oil), Tocopherol (Vitamin E), Euphorbia Cerifera(Candelilla) Wax, Extracts of Camelia Sinensis Leaf Ferment (White Tea), Coffea Arabica (Coffee Cherry), Aristotelia Chilensis (Maqui Berry), Vitis Vinifera Skin (Muscadine Grape), Garcinia Mangosteen Peel (Mangosteen), Malpighia Punicifolia Fruit (Acerola), Sambucus Canadensis (Elderberry), Citrus Grandis(Grapefruit) Seed, Lonicera Caprifolium Flower and Lonicera Japonica (Honeysuckle)Flower Extract
*Certified Organic

How to apply :

This matte formula can dry quickly, so apply in sections for best results. Start with forehead, cheeks, and chin. Blend outwards using clean and slightly damp Non-Latex Makeup Blender, or with a Cruelty Free Kabuki Brush for an ultra matte

Net weight : 1 fl oz/ 30 ml
Made in USA



Q. Why choose a full coverage foundation?
A. Full coverage foundations conceal imperfections, discolorations, and blemishes, offering a flawless complexion even in harsh lighting or up-close settings.

Q. What benefits do superfruits and vitamins bring to foundations?
A. Superfruits and vitamins provide antioxidant protection, support skin health, and offer nourishing benefits that improve the skin's overall appearance and texture.

Q. Why is a matte finish preferred by some users?
A. A matte finish controls shine, offers a velvety texture, and is ideal for users looking for a polished, refined look, especially in warm or humid conditions.

Q. How does rice powder affect the foundation's consistency and finish?
A. Rice powder helps in achieving a smooth, matte finish by absorbing excess oil and providing a soft-focus effect on the skin.

Q. Is the Fruit Pigmented® Healthy Foundation suitable for all skin types?
A. While it's particularly ideal for those looking for full coverage and oil control, with the right skin preparation, it can be suitable for various skin types.

Q. For whom is the Fruit Pigmented® Healthy Foundation especially recommended?
A. This foundation is perfect for those who require absolute full coverage, especially for concerns like dark circles or hyperpigmentation, and seek a balanced complexion with controlled shine.