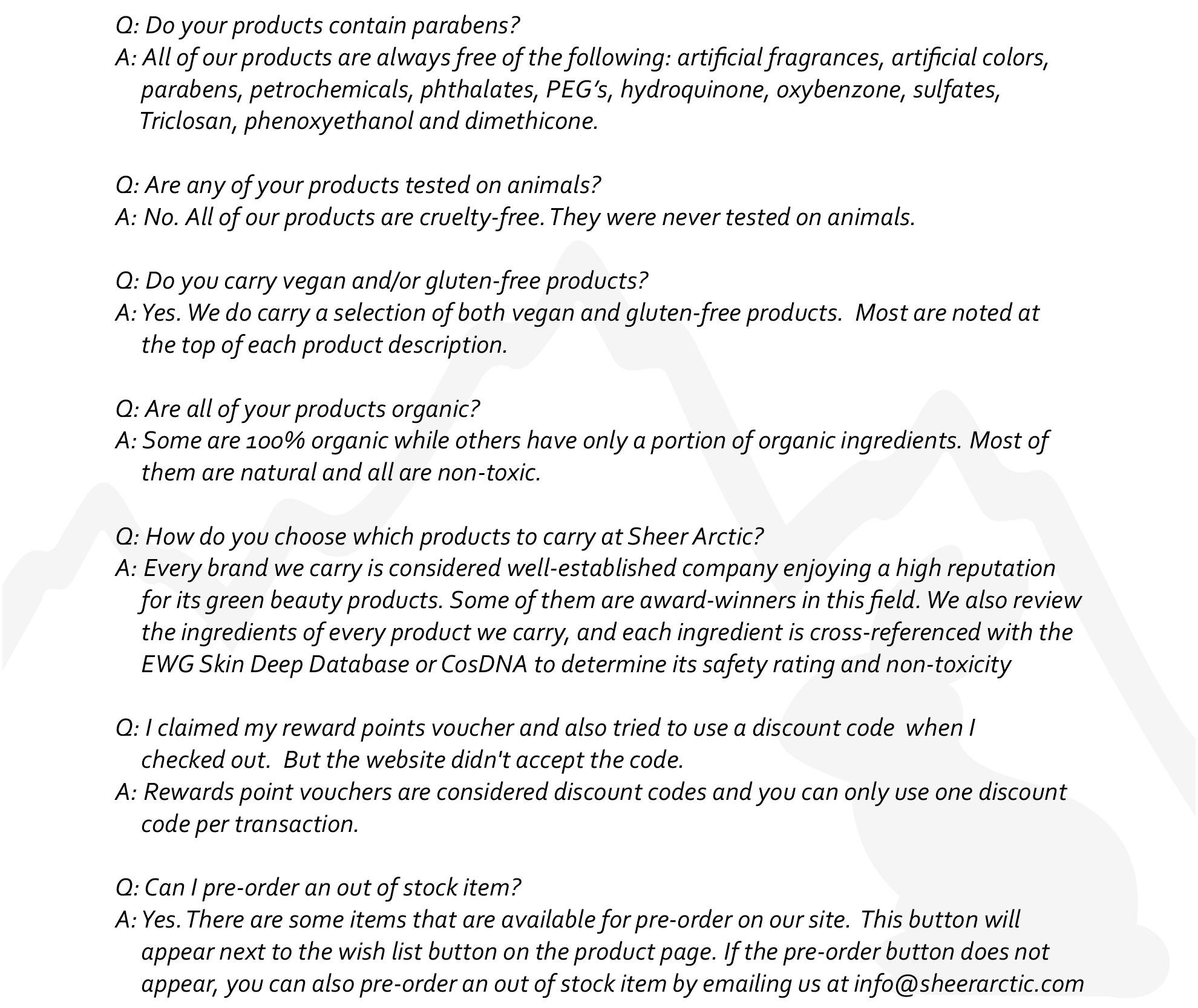 Q: Do your products contain parabens? 
A: All of our products are always free of the following: artificial fragrances, artificial colors,
 parabens, petrochemicals, phthalates, PEG's, hydroquinone, oxybenzone, sulfates,
  Triclosan, phenoxyethanol and dimethicone.
Q: Are any of your products tested on animals? 
A: No. All of our products are cruelty-free. They were never tested on animals.
Q: Do you carry vegan and/or gluten-free products? 
A: Yes. We do carry a selection of both vegan and gluten-free products.  Most are noted at
 the top of each product description.
Q: Are all of your products organic? 
A: Some are 100% organic while others have only a portion of organic ingredients. Most of 
 them are natural and all are non-toxic.
Q: How do you choose which products to carry at Sheer Arctic? 
A: Every brand we carry is considered well-established company enjoying a high reputation 
for its green beauty products. Some of them are award-winners in this field. We also review 
the ingredients of every product we carry, and each ingredient is cross-referenced with the
 EWG Skin Deep Database or CosDNA to determine its safety rating and non-toxicity
Q: I claimed my reward points voucher and also tried to use a discount code  when I
 checked out.  But the website didn't accept the code.
A: Rewards point vouchers are considered discount codes and you can only use one discount 
code per transaction.
Q: Can I pre-order an out of stock item? 
A: Yes. There are some items that are available for pre-order on our site.  This button will 
appear next to the wish list button on the product page. If the pre-order button does not
 appear, you can also pre-order an out of stock
ite
m by emailing us at info@sheerarctic.com