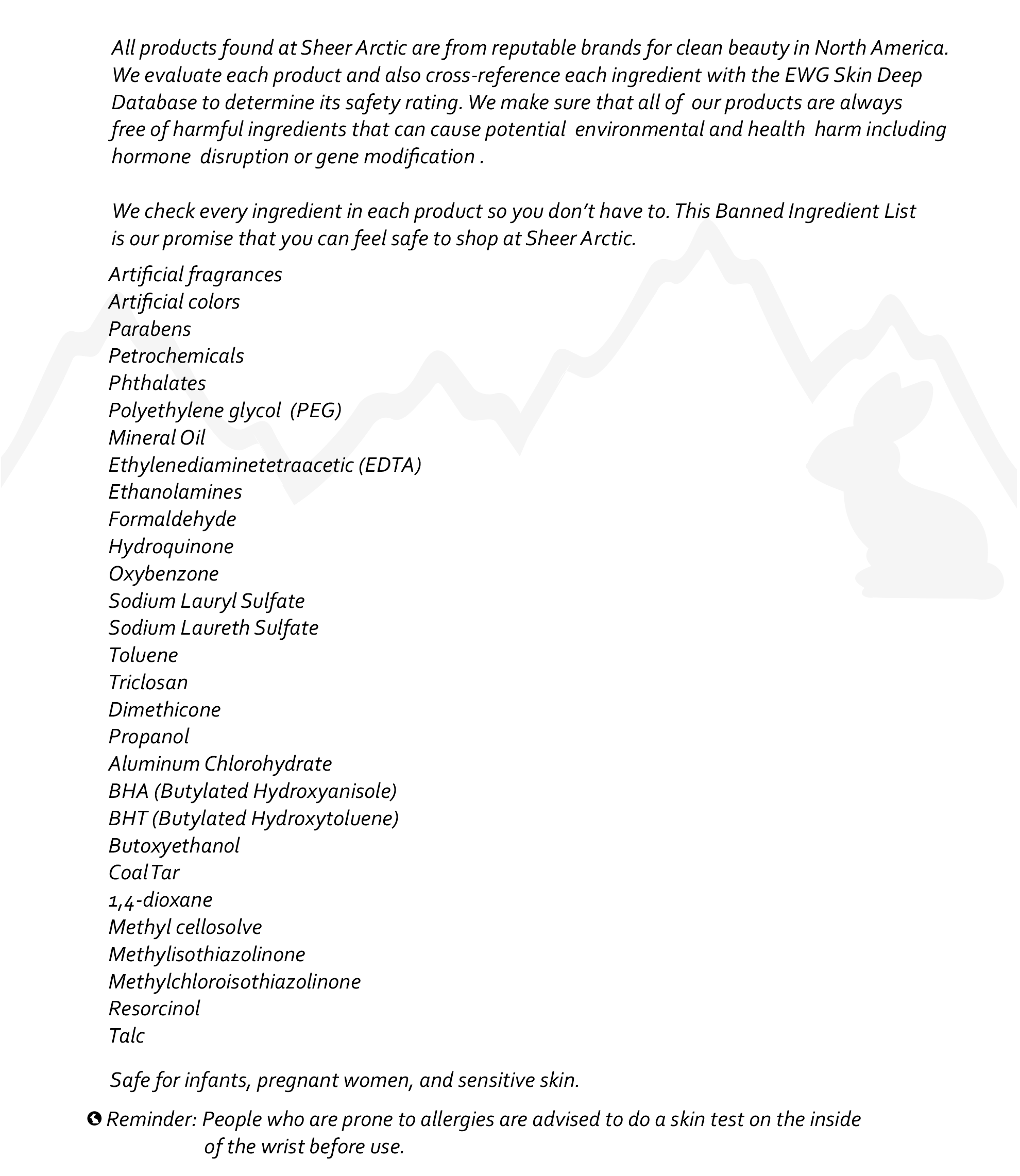 All products found at Sheer Arctic are from reputable brands for clean beauty in North America. We evaluate each product and also cross-reference each ingredient with the EWG Skin Deep Database to determine its safety rating. We make sure that all of our products are always free of harmful ingredients that can cause potential health and environmental harm. 
We check every ingredient in each product so you don't have to. This Banned Ingredient List is our promise that you can feel safe to shop at Sheer Arctic. 
Artificial fragrances 
Artificial colors 
Parabens 
Petrochemicals 
Phthalates 
Polyethylene glycol  (PEG) 
Mineral Oil 
Ethylenediaminetetraacetic (EDTA) 
Ethanolamines 
Formaldehyde 
Hydroquinone 
Oxybenzone
Sodium Lauryl Sulfate 
Sodium Laureth Sulfate 
Toluene 
Triclosan 
Phenoxyethanol 
Dimethicone 
Propanol 
Aluminum Chlorohydrate  
BHA (Butylated Hydroxyanisole) 
BHT (Butylated Hydroxytoluene) 
Butoxyethanol 
Coal Tar 
1,4-dioxane
Methyl cellosolve 
Methylisothiazolinone 
Methylchloroisothiazolinone 
Resorcinol 
 Safe for infants, pregnant women, and sensitive skin. Reminder: People who are prone to allergies are advised to do a skin test on the inside of the wrist before use.